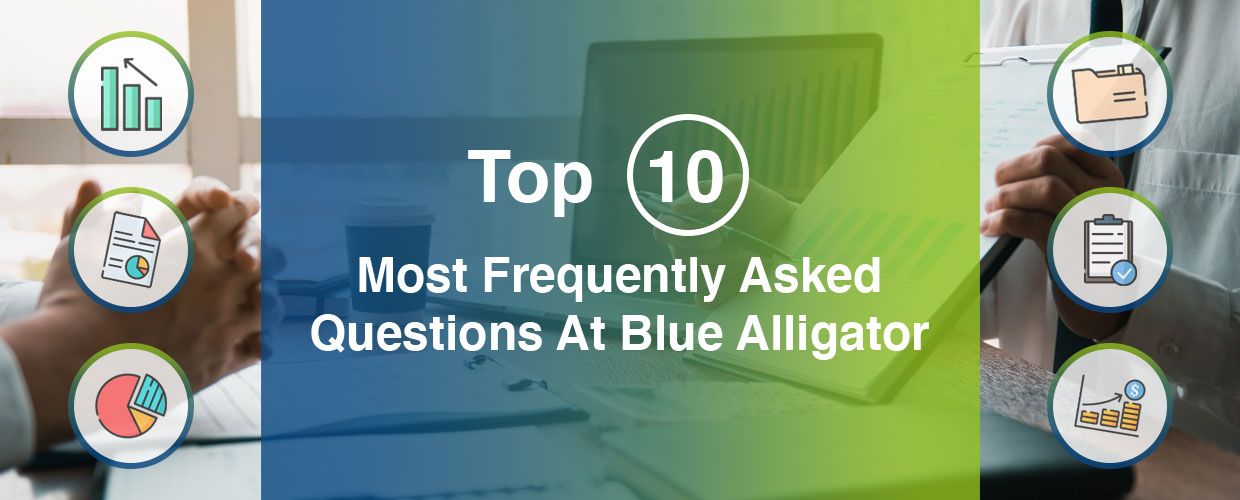 Top 10 Most Frequently Asked Questions At Blue Alligator
We have started to see a rise in enquiries due to the lockdown restrictions being lifted. So we wanted to take the time to answer the common questions without the need to contact us and dig for info.
From the start of this year, we have collected our Top 10 Most Frequently Asked Questions from meetings with potential clients.
Take a look:
1. My current manual processes are fine. Why change them?
It is worth understanding how much time is being wasted with manual low-value work. From our experience, it is almost unheard of that a company is spending less time/money doing this work manually as opposed to automating it. When looking at this you should consider:
– Getting stock, product, pricing and media out to reps to help sell.
– Price for printed catalogues.
– Staff time to re-enter orders as they come in.
– Time wasted by sales reps whilst understanding customer accounts before, during and after meetings.
– Your customers need order data ready to import to their backend/ePOS system.
2. We have a very different pricing structure than most in the industry. Can you cope?
Our app is built with a diversity of pricing structures in mind. You will be given a project manager to work closely with to replicate your structure within the app, using a multitude of standard features at your disposal.
3. My reps are more focused on the customer. How can we make sure the reps use the app?
SalesPresenter is the easiest app to navigate according to our customers. The complex work happens outside of their control in our cloud manager. So the rep simply only worries about selling more and nothing else.
4. Can I use a barcode scanner with SalesPresenter?
Yes, you most certainly can. Hand your reps a barcode scanner and allow them to build orders by scanning products. This is particularly helpful at trade shows, with the added benefit of handing the scanner to the customer to build their own order!
5. Is it possible for our reps to see the stock of our products?
Your reps will stay up to date with stock pricing no matter where they are based. With a robust link to your back office system, your reps have the confidence to sell more accurately.
6. How do you automate my sales?
It's simple, we install software called CloudSync which is the link between your back office system to our cloud. This enables data such as customer information, product details, images, stock levels and more to be automatically transferred between our system and yours.
We also have an API for those customers that have the in-house capability to build a connection themselves.
7. Can I add customers on the go?
Certainly, SalesPresenter provides the functionality to add customers wherever you are. When your rep reaches Wi-Fi, he can upload these details ready to be processed into your system.
8. We want to focus on increasing our average order value. Can you link different products together?
With our free to use Linked Products feature you can display similar products, for example, multiple colours of one item. This reminds your reps to cross-sell items to their customer, resulting in a larger order. This, coupled with many other up-sell functions, gives your sales reps the tools to aid order value increases.
9. Do your apps work offline?
A rep will perform a download before they leave the office/home for the day. They will then spend the day taking orders. These are the only times they require an internet connection. Outside of that, they are free to use the application completely offline.
10. How much time will an automated sales rep app save me?
We will let our customers answer this one as ultimately these are businesses that utilise our software on a day to day basis. If you want to see more customer feedback click here.
Have a different question that's not on the list?
That's not a problem, contact us by phone at +44 (0) 1908 368001 or click the button below to email us your question.
Contact Us
Contact Us